Fiberglass Pool Repair Experts
Pools so beautiful that your neighbors will be jealous.

Repairs & Resurfacing
Have a cracked, leaky, or unsightly pool? We'll make it look BRAND NEW not just now, but in 7 years too.

Luxury Features
Need a revamped pool deck? How about waterfalls, lighting or other pool upgrades? We'd love to help!

Cleaner, Healthier Water
Looking for a way to enhance water quality while cutting back on chemical use? Ask us about the amazing Pool Tiger!
Areas We Serve
For over a decade, Fiberglass Pool Doctor has been repairing and resurfacing fiberglass pools throughout the Southeastern United States.
We began on the Florida southwest coast serving communities like Tampa, Sarasota, Bradenton, Punta Gorda, Fort Myers, Naples, Marco Island, and the neighborhoods in between.
Over the years, we've expanded to serve all of Florida, Georgia, South Carolina, North Carolina, Virginia, West Virginia, Kentucky, Tennessee, Alabama, Mississippi, Louisiana, Missouri, Arkansas, Oklahoma, and Texas.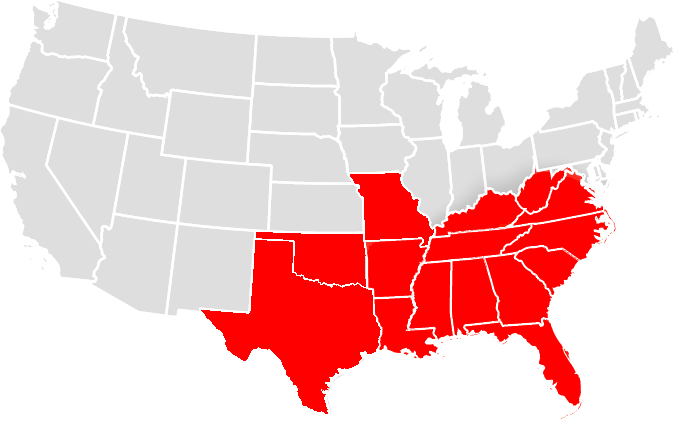 Our Unique Process
We begin every pool the same. We drain the pool quickly using high volume pumps while assessing and stabilizing the water table. If it is determined water will be under the pool, a relief hole is drilled at the deepest point. Some pools require additional dewatering methods such as well pointing, but we will take all steps to protect your property and explain to you what will be required and if there will be additional costs.
The next step is we vapor blast your pool with crushed glass to prepare a profile for the new finish. This is the cleanest and most effective method to adequately sand a pool. It minimizes damage to the pool shell and allows us to sand every contour and angle of the pool. If the pool has been previously coated, we may have to remove the coating to ensure we get a chemical bond between our new finish and the original pool substrate. This is where most other companies' problems begin.
Read More...
Surface prep is a critical and probably the most important step. We found that when a pool was prepared with traditional sanding methods the worker was made uncomfortable and the thoroughness of their sanding was affected often creating a situation where areas of the pool are missed entirely, over sanded or under sanded. The deck, screen, plants, and furniture are left with a thick film of gel coat dust that is almost impossible to remove.
We made a large investment into a better process that has proved to be the only "correct" method to surface prep the pool. Crushed glass is mixed with water in a pressurized pot. It is then sprayed on the surface to be prepared with a very high pressure. The water creates a mist to collect the dust and cause it to fall to the ground and to cool and clean the surface as it is sanded. 95-98% of the sanded gel coat and the crushed glass end up in the bottom of the pool where it is easily cleaned up. The rest is washed into the pool as we wash down the entire area with a pressure washer.
The surface is sanded uniformity and without missing any areas by a technician who is now comfortable and able to properly do his job. Everything is washed down, vacuumed and allowed to dry overnight.
We mask the deck off by using poly tape and 4 mil plastic to cover the entire deck and protect from overspray and chemical spills. We ask our customers to either remove patio furniture entirely or consolidate to one area so we have space to work and can protect the things you have purchased for you oasis.
We then wipe the pool with acetone to remove any impurities that may have landed on the pool surface. We spray the pool with the highest quality marine grade gelcoat with specific enhancers we have found to allow the gel coat to reach it's hardest potential.
Read More...
In the lab gel coat manufactures catalyze their material at 1.25%-3%, 12-15 mins minimum, and a ambient temperature of 70-80*. A roller applied coating will never be greater than 2-3 mile per coat, and each coat creates a barrier that should be sanded before applying a second coat. It is near impossible to catalyze at even 1.25% because the material will have a work time of a few minute and the installer would literally have to pour the material out all over the surface.
We use the same equipment found in any fiberglass manufacturing facility that precisely measures the catalyst at 2.25% an we spray the material building it up to a thick 35-38 mils that will last 25-35 years of protection and trouble-free use. By applying the material this way we ensure the best possible UV protection and chemical resistance. The material is chemically bonded to the substrate and reaches a temperature of over 200* melting it to the pool and making it impossible to separate from the substrate.
We then apply our unique pebble like finish composed of multi-color gelcoat busts of dots. This creates a multi-colored textured, non-porous, rock hard finish that will enhance the look of the pool while hiding blemishes and imperfections and manipulates the water to produce a vibrant blue color that gives the Caribbean a run for its money.
After the finish is complete, we peel back our plastic revealing the new beautiful finish, clean up and haul away our trash.
You can rest assure that working with us, your pool can be brought back to the beauty and trouble-free focal point of the yard it once was. We also will provide you with what are the best products to use moving forward.
"
After watching the process and expertise I couldn't imagine using anyone else after hearing all the horror stories of improper pool repairs. I hope this helps anyone trying to decide on a pool repair company that is reputable and professional.
"
Ryan has a niche service than cannot be compared to any other fiberglass pool repair... HIGHLY RECOMMENDED!!!
"
We are very pleased with Ryan's recommendation and installation of the Pool Tiger. It is wonderful to swim in a pool with less chemicals. Would highly recommend Ryan and his team.
"
Fiberglass Pool Doctor is amazing! They resurfaced our fiberglass pool and now it looks better than when it was brand new! Love it!
"
OMG! The most Fabulous guys I've ever met! Polite, nicely dressed, and don't reek of cigarettes. I would recommend strongly that if you need your pool resurfaced, don't hesitate to hire these guys!
"
Ryan did a FANTASTIC job fixing our pool! It is absolutely beautiful.
Meet Ryan, The Fiberglass Pool Doctor
Hi, I'm Ryan,
In 2009, while working in the pool industry, I noticed the need for a quality fiberglass pool restoration specialist. "Repainting" services were available for fiberglass pools, but this process left fiberglass pool owners with a never-ending maintenance nightmare and an even more unsightly finish than before. I sought out and began developing a process to fix this problem and offer customers a "once and for all" solution that would and value and make use more enjoyable.
I developed a process to not only enhance the look of the pool but also leave the pool in a similar condition as if you had decided to do a full replacement of your pool. Countless hours and tens of thousands of dollars were spent developing a method and product to truly fully restore and enhance your fiberglass pool. My goal is to leave you with an added value to your home, giving you a return on your investment and years of trouble-free service.
Our business has grown to offer unique finishes that you can have confidence in. Pool service companies have become our best advertisers. Individuals who have refused to offer a fiberglass pool refurbishing recommendation for decades have become the biggest promoters of our process. You can rest assure that working with us, your pool can be brought back to the beauty and trouble-free focal point of the yard it once was.
Fiberglass Pool Doctor is based in Lithia, FL and serves the Southeastern USA and surrounding states -- including Florida, Georgia, South Carolina, North Carolina, Virginia, West Virginia, Kentucky, Tennessee, Alabama, Mississippi, Louisiana, Missouri, Arkansas, Oklahoma, and Texas. We will occasionally service areas beyond this region, depending upon scope of work and viability.
Estimate Request Form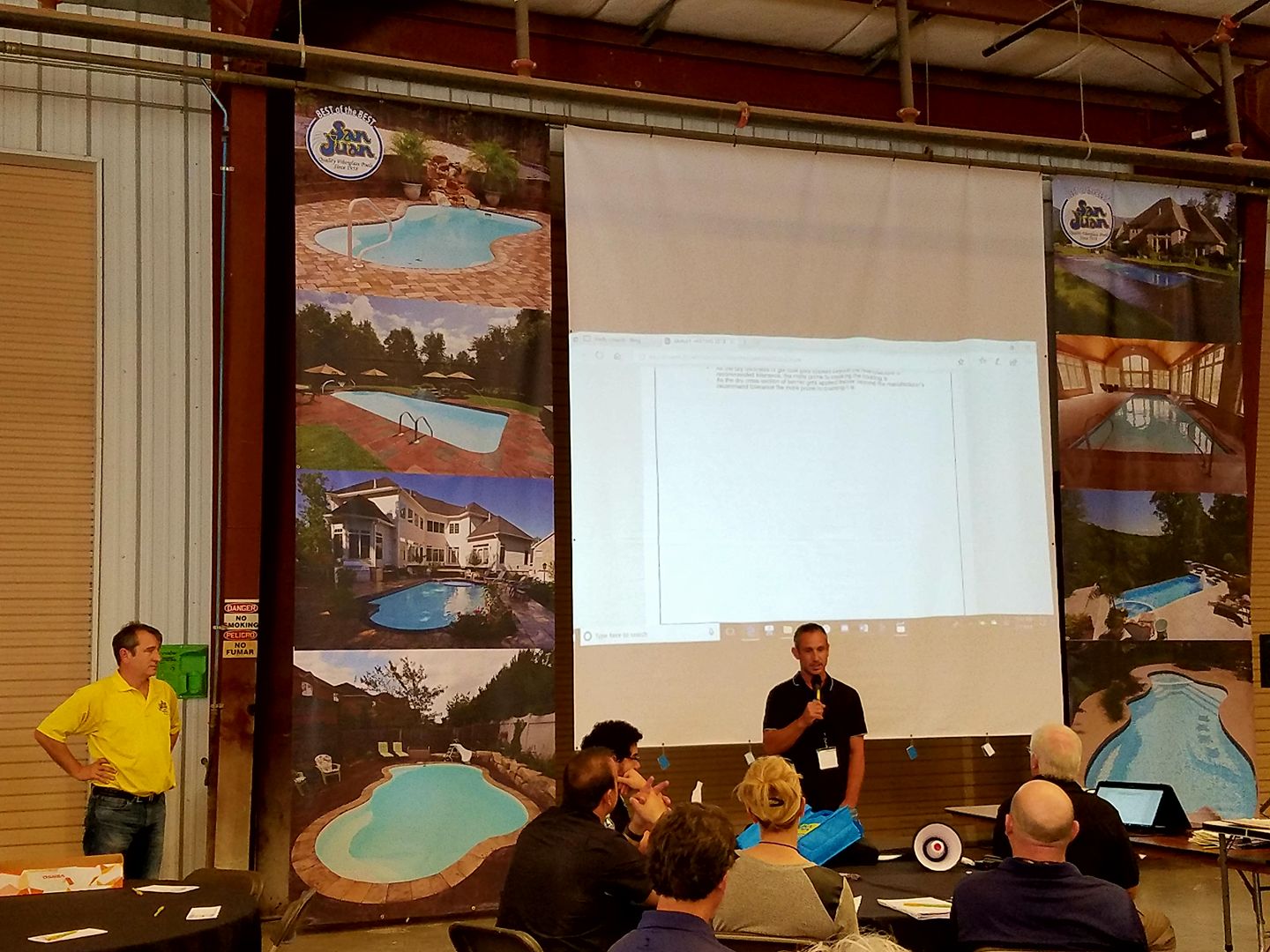 Ryan Hirst being recognized for his award winning fiberglass pool installations, and discussing his company Fiberglass Pool Doctor at the San Juan Pools manufacturing facility in Lakeland, FL.